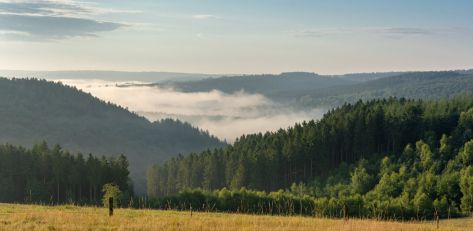 If you love green landscapes, you'll love Le Val Saint Hilaire's remarkable location at the heart of Givet, right on the border of the Ardennes Park and the French Meuse Valley. Dive right into this natural heritage as much as you like throughout your stay here.

The Regional Natural Park of the Ardennes is one of the main forest heartlands in North-East France. This area constitutes over 100,000 hectares of remarkably preserved natural spaces, from just north of the town of Charleville-Mézières to the Belgian border. As such, walkers and hikers alike will adore this vast territory. Forests, moors, wooded fields, peatland and slate rocks help to create a landscape ever-changing and unique, rich in both an ever-present historic heritage and architecture dotted along the hiking trails. The Plateau de Rocroi, the Château de Hierges and the Fort de Charlemont are just some of the places you can visit.

Nestled between France and Belgium, the Pointe de Givet is a particularly well-preserved part of the park. Grassy plains, shrub thickets and numerous rocky cliffs along the banks of the Meuse provide an ideal habitat for such iconic species as the eagle owl and the wood lark. Just some of the natural wonders that await you at the gates of the hotel!