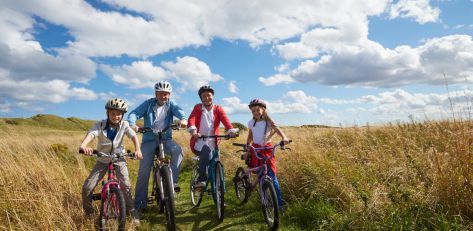 Looking to rent bikes in the Ardennes? The hotel, located close to the Trans-Ardennes cycle path, can offer bike hire every day. This way, you'll be able to enjoy the magnificent landscapes of the Meuse Valley and the Ardennes Champagne.
The small border town of Givet is the ideal departure point for one of the best bike paths in North-East France – the Trans-Ardennes bike path. Totalling 121 km in length (easily accessible at any point), the river's tow path has become a cycle route to lead you from Charleville-Mézières et Sedan all the way to Remilly-Aillicourt. From there, you'll be able to extend your excursion by taking a secondary route of around ten kilometres along the waterfront of the small Ennemane river up to Raucourt-et-Flaba.

You'll also be able to enjoy numerous stopping points along the route, including picnic or relaxation areas, restaurants and green spaces. Better yet, the Trans-Ardennes is directly linked to RAVEL, the Belgian network of cycle routes, if you're interested in crossing the border.

If you simply fancy a quick and invigorating excursion, choose the No 28 Famenne loop. With its starting point located in Givet near the hotel, this route has a decent length of nine kilometres and should take you no more than two hours to complete. The loop will give you an excellent overview of the natural beauties that help to make the Ardennes so charming.