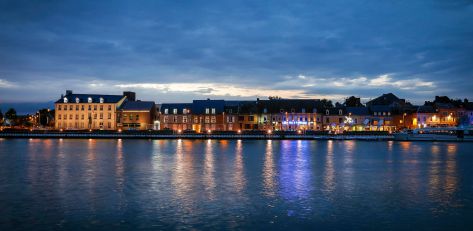 When you stay at Le Val Saint Hilaire, you'll have the ideal opportunity to discover the unique and endearing town of Givet. Comfortably located by the river in the Meuse Valley and final stop before reaching Belgium, Givet is proud of its border-town status and its incomparable historic, cultural and architectural heritage.

The first striking feature of Givet is its geographic location. Final stop on the Meuse before Belgium, the small town of 6600 inhabitants appears on a map as being a stretch of French land heading into and surrounded by Belgian territory, making for a particularly striking feature. This "Pointe de Givet", which has been in French hands since 1680, represents strategic interests that have contributed to the town's heritage, in particular the splendid fortifications. The Fort de Charlemont, the Grégoire and Victoire towers or better yet the monumental "Porte de France" combine with an equally rich religious history (including the Saint-Hilaire and Notre-Dame churches, plus the Saint-Roch chapel).

When you stay at our hotel in Givet, you'll be able to enjoy a magnificent setting on the banks of the Meuse and an ideal environment for walking. Take the time to cross the small typical roads which separate the hotel from the heart of the town, not forgetting to admire the numerous views of the Meuse along the way. You'll also have time to take a boat cruise on the river on the borders of both France and Belgium.