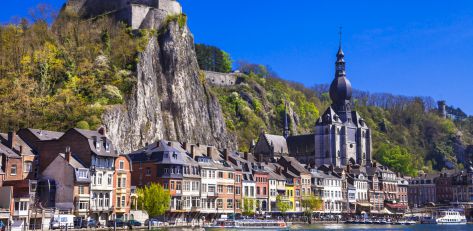 Why not extend your adventures into the Belgian Ardennes? Located in the border town of Givet, our hotel is right at the gates of Wallonia in Belgium. From Dinant to Namur and up to the villages in the Lesse Valley, discover the incredible beauty and diversity of the landscapes.

Located 20 km from the hotel, the small town of Dinant will astound you with its immense rocky ridge overlooking the Meuse at a height of a few hundred metres, and upon which the town's medieval citadel lies. You'll also be able to discover the Notre-Dame de Dinant collegiate church as well as the Rocher Bayard, an impressive rock cut away from the cliff. The nearby community of Namur is just 45 minutes from Givet and is also the site of a citadel perched on an impressive rocky massif.
It's just a short way from the Meuse Valley to the Lesse Valley! On your trip into Belgium, discover the astonishingly preserved picturesque villages such as Houyet, Celles and Han-sur-Lesse, or venture deep into the Caves of Han-sur-Lesse for fresh sensations. Finish your journey across the Belgian Ardennes in Rochefort. In this Walloon town, try a well-deserved Trappist beer at one of the town's numerous traditional bars.